Welcome to Katie Yoga
What to expect
Yoga is an uplifting, self-reflective practice that cultivates health and happiness. The word yoga translates to union, and the practice of yoga unites the body and mind through the breath, leading to greater integration of being and clarity of mind.
During a KatieYoga class you will enjoy a flowing combination of asanas (yoga postures), pranayama (breathing techniques) and dhyana (relaxation/meditation). Each class is designed to help you build strength, flexibility and balance both in the body and in the mind.
Everyone's body is unique and we all come to yoga with different expectations (e.g. to rehabilitate an injury, manage stress or increase mobility). A one size fits all approach is not always appropriate in a yoga class, KatieYoga teachers specialise in customising the practice to meet the needs of the individuals within the group. Feel free to contact us to discuss your needs prior to class.
Do you have a Private Health Fund?
Do you have private health insurance? Many private health funds recognise the long term benefits of yoga and provide a rebate to members who attend yoga classes taught by Yoga Australia Members. KatieYoga teachers are registered with Yoga Australia which may entitle you to a rebate from your provider. For more information about whether your health fund participates see the Yoga Australia Website or contact your health insurance fund.
Our Teachers
Katie Garnett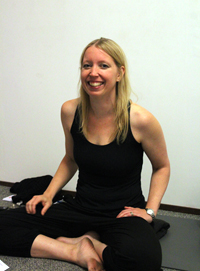 Be prepared to laugh, have fun and make new friends during a KatieYoga class and leave feeling energised, focused and balanced. Katie loves the creativity that goes in to planning and teaching a yoga class and aspires to provide fun and enjoyable, yet challenging classes which integrate traditional yogic practices including yogic philosophy.
Katie first discovered yoga in 1997. She fell in and out of yoga until committing to a regular practice from 2006. Over the years Katie has seen the benefits yoga in her own life physically, mentally, emotionally and socially. Katie began teaching yoga in 2011 and she hopes to share her journey with others so they too can benefit from the wholistic practice of yoga.
Katie is a qualified school teacher and workplace trainer who has over a decade of experience in adult education and training. Her background has provided her with transferable knowledge and skills that enable her to provide a safe and nurturing environment where individual needs are catered for within the group setting; instructions and verbal cues provided are clear and concise; and classes are structured around learning objectives.
Katie's own yoga training includes Vinyasa Flow, Hatha, Iyengar, Restorative, Yin and Yoga Therapy. Katie draws influence from all these styles to provide you with an alignment-focused, flowing practice that links the movement of the body with the breath.
Qualifications and Training
Yogic Mindfulness - A. G. Mohan & Indra Mohan - (35 Hours) - Svastha (2018 studies)
Therapeutic Wisdom Training - Doug Keller (30 Hours) -

Swa

tantrya

Essential Yoga Anatomy - Jason Crandell & Paul B. Roache M.D. (current studies)
Graduate Certificate of Yoga Therapy (365 hours) - Yoga Space and Surya Health
Tamara Yoga Teacher Training Postgraduate Training (150 hours) - Tamara Yoga
VIYETT Diploma of Yoga Teaching (500 hours) - Victorian Institute of Yoga Education and Teacher Training
Diploma of Training and Assessment - Durack Institute of Technology
Certificate IV in Training and Assessment - Durack Institute of Technology
Masters of Communication - Edith Cowan University
Graduate Diploma of Education (Secondary) - Edith Cowan University
Bachelor of Arts (Multimedia Design) - Curtin University of Technology
Professional Membership and Accreditations

Yoga Australia - Registered Level 2 Teacher
Yoga Australia - Registered Yoga Therapist
International Association of Yoga Therapists
Working with Children Check
Senior First Aid & CPR
David Baker
After a sporadic yoga practice of over eight years, David committed to a regular yoga practice and felt the dramatic benefits of a consistent practice both physically and mentally. He began teaching in 2014 as a way to help other with their body and their mind.
His love of yoga is complimented by his fascination of the body as an engine. Like any machinery if one part is doing all the work it wears at a faster rate. Similarly, is one part is under used, when suddenly called upon, it my no longer be up to task and end in breakage. The principles of body mechanics, and his love of yoga and meditation are what David brings to each class as an teacher.
Qualifications and Training
Essential Yoga Anatomy - Jason Crandell & Paul B. Roache M.D. (current studies)
VIYETT Diploma of Yoga Teaching (500 hours) - Victorian Institute of Yoga Education and Teacher Training
Diploma of Training and Assessment - Progressive Training
Certificate IV in Training and Assessment - Durack Institute of Technology
Professional Membership and Accreditations

Yoga Australia - Registered Level 1 Teacher
Working with Children Check
Senior First Aid & CPR
Testimonials
"When I leave Katie's yoga class I always feel grateful that I took time for myself to come as after class I feel focused, relaxed and more energised. Katie's class makes me feel happier and confident in myself. I feel safe and comfortable enough in class to try anything. It's great to be able to incorporate this into my everyday life, it has made a huge difference. Katie never fails to surprise me, even after doing yoga for nearly five years, she always seem to bring new and exciting challenges to the class whether it is physical or mental. This inspires my own practice as it reminds me that there is so much more to learn and it makes me want to keep coming back. Katie is a truly encouraging teacher and her positive attitude and enthusiasm towards yoga sets a great example to us all, I feel comfortable to ask her anything and not only has she taught me a great deal about yoga, but about myself as well and for that I feel thankful to have her in my life." - Jessica
"I started my yoga practice as a natural way to relieve my anxiety and panic attacks. Katie has always been very supportive of this and has helped me greatly with overcoming my anxiety and I am now able to be with my thoughts and feel relaxed and at peace. I also suffer from lower back problems and I am unable to perform backbends. Katie has taught me how to modify my practice to suit, she always ensures in class that I do not miss out and will make changes for me." - June